Little is known about how the ranking system for Marines will work so this page will be updated properly upon the release of more knowledge.
To join the Marines, you need to have no bounty and talk to the Marine Recruitment Officer in Shells Town. Getting arrested by the Marine holding handcuffs, in the execution field, will end up with you being tied to the post and later released (1-2 mins later) with no bounty thus being able to join the Marines.
You must pass a physical test in order to join the Marines.
It is currently impossible to join the Marines
In the anime/manga there are 19 ranks in the marines.It is curently unknown whether all the ranks will be in the game.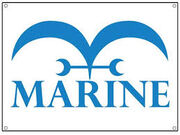 Ranks
1) Cabin Boy
2) Admiral ( Selected by techlevel80, All positions are taken )
3) Fleet Admiral ( Only techlevel80 )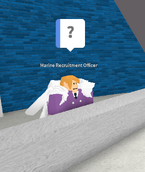 Ad blocker interference detected!
Wikia is a free-to-use site that makes money from advertising. We have a modified experience for viewers using ad blockers

Wikia is not accessible if you've made further modifications. Remove the custom ad blocker rule(s) and the page will load as expected.