The Settings are accessible when pressing the "X" key. You can mute or change music, change your character look, reset your Devil Fruit.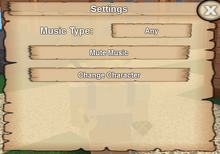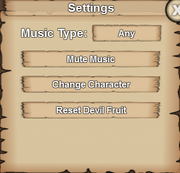 Resetting your Devil Fruit costs 750 Robux, but some players choose to reset their data completely by starting a new game to change their Devil Fruit.
(Devil Fruit reset was removed from the game until further notice)
Ad blocker interference detected!
Wikia is a free-to-use site that makes money from advertising. We have a modified experience for viewers using ad blockers

Wikia is not accessible if you've made further modifications. Remove the custom ad blocker rule(s) and the page will load as expected.